NJ@KT 2022 – Camp Day 2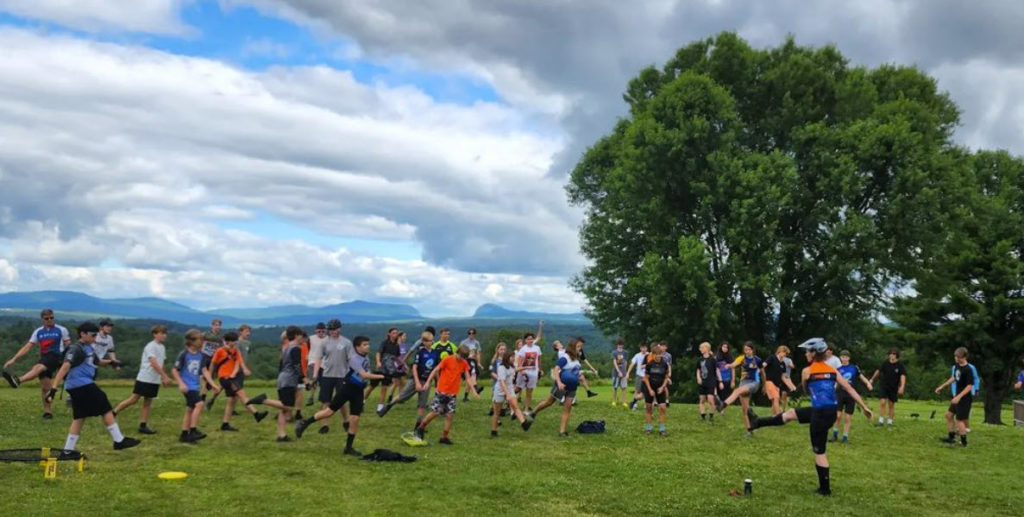 Greetings Parents, Guardians, and Friends,
It's another glorious morning at Burke Mountain Academy. Campers just finished breakfast with some locally sourced maple glazed bacon added to the standard breakfast fare. Yes, it was good enough to mention in this morning's recap email! They are grabbing their bicycles now from the secure storage locations, and prepping for today's rides. Bike games and skills drills until then.
Yesterday was an action-packed day. The morning's brief precipitation ended before our scheduled drills and bike games, only to return for a brief deluge during our rides. This added to the fun factor and cooled off our ride groups. Speaking of cooling, the league purchased a dozen fans yesterday to enhance creature comforts in the dorms. Primarily a ski academy, the BMA dorms rarely require open windows or fans when students are on campus, so we were happy to donate fans for summer programming. Temperatures were in the low to mid 50's when we woke up this morning, and super comfortable at lights out too.
Yesterday's rides ended in time for a bike wash and showers before dinner, which consisted of burgers, fries, salads, etc. There were locally produced black bean burgers in addition to the beef, and the chef added some homemade falafel too for our vegan and vegetarian folks. I am happy to report that we are on the same page with the food service team at the academy after the mac n' cheese first night. Following dinner, campers took advantage of an hour-long free time, then gathered in the dining hall for a presentation from Kristine Contento-Angell, Head Coach of our Verona and Essex Offroad teams, camp coach, and professional enduro racer. She chronicled her recent trip to Scotland and Italy to race in the Enduro World Series through a photo-heavy slide presentation, followed by over 30 minutes of Q&A with campers. Students were super engaged with her presentation, learning about goal setting, grit, determination, training, nutrition, and all kinds of "inside a pro's mind" information on racing at the elite level.
Lights out went smoothly, helped greatly by an action packed day of riding and a lot of tired campers. The sunset view from the dining hall during free time was "ok" too….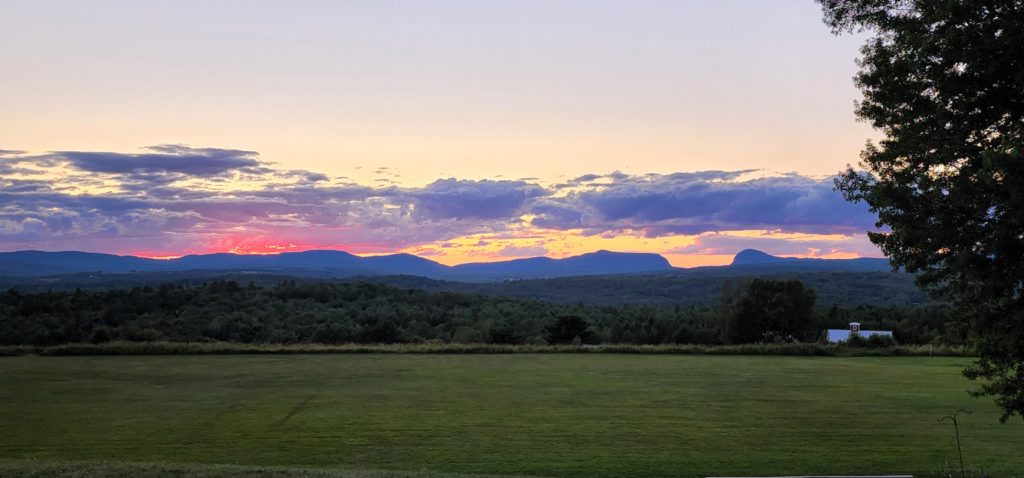 For more photos, you can also follow our student-administered IG page, @njmtb_vermont22
Wishing everyone a wonderful day from the league staff and amazing group of coaches assembled here at BMA. They are professional and encouraging, 100% engaged, and dedicated to ensuring the best possible experience for our campers. Please be sure to thank them when you can.
As always, if you have any questions or need to contact us, please do not hesitate to call. I also hope that these morning emails are welcomed, particularly for those who are experiencing the first sleepaway camp. Please rest assured that your children's safety, security, and happiness is our top priority, and we are here if you need anything too.
Wishing everyone a wonderful day, and we'll check back in tomorrow morning.
Best wishes,
Ken, Jon, and the NJ@KT Staff