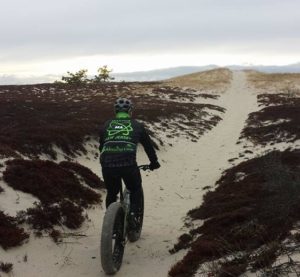 Ken Seebeck, League Director
Ken comes to NJICL by way of JORBA, the Jersey Off Road Bicycle Association, where he serves as Executive Director. JORBA was founded in 1999 to build and maintain sustainable multi-use trails, organize and encourage volunteerism and responsibility, and advocate and foster mountain biking as a healthy, environmentally sound, and sustainable activity. Ken feels strongly that NICA is crucial to the future of cycling in America, and is excited to partner JORBA with the league.
He was an early member of the NJICL Core Team. He saw NJICL as a natural extension of his involvement in mountain biking advocacy and took up the role of Chief of Registration in our inaugural season before accepting the responsibility as League Director in June of 2017.
Ken began mountain biking in the late '80s and found mountain bike advocacy in 2005 when he volunteered as Development Director for JORBA. He is humbled by the passion of New Jersey's volunteers and the rich history of stewardship mountain bikers have created. He works with land managers across the state to strengthen partnerships and spread trail love. He serves on the NJ Department of Environmental Protection's New Jersey Trails Council as the Statewide Mountain Bike Representative.
Ken enjoys all aspects of cycling, from racing to commuting to adventure, and feels that the world is a better place when experienced from a bicycle. He is a husband and father of four, and recently retired honorably from the United States Coast Guard, where he served as a Chief Boatswain's Mate.
---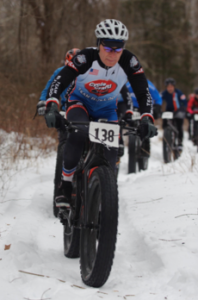 Tom Kruse, Race Director, Founding League Director
As the Founding League Director and Chief Course Marshal of the New Jersey Interscholastic Cycling League, Tom is stoked to introduce the world's best life-style sport to the next generation. He has been riding bikes for most of his life, and with the purchase of his 1984 Stumpjumper was hooked on mountain biking, and the lifestyle and community that goes with it. Tom started racing in 1992, and his recent accomplishments include a New Jersey State Championship, and first place in the regional mountain bike race series, both in the Cat 1 Open Single Speed category. In 2015 Tom competed in the NUE Series' 50+ Masters field, earning himself a bunch of podium finishes.
Tom joined NJ-based Team Bulldog (www.teambulldog.com) in 2009, and started the team's U19 racing team in 2010, leading the program as head coach and director ever since.
Tom earned a B.Sc. from Cornell University many, many moons ago, and after a career in ERP system consulting and project management is enjoying semi-retirement and staying active with his wife, son and daughter. He believes that cycling has the ability to change lives, and is passionate about sharing that gospel with today's juniors through his ongoing involvement with Team Bulldog U19, and on a broader basis through NICA.
Tom served as League Director for our inaugural season and Advisory Board President until 2020. He is also keeping a "hands on" role as a coach on his local NICA team as well as serving as our Race Director.
---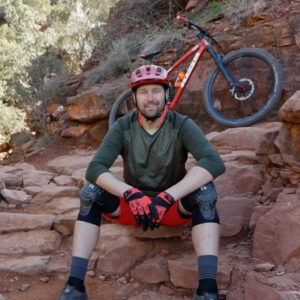 Jeff Lenosky, League Ambassador
Jeff is a veteran rider who travels the country performing demos, leading group rides and competing in various disciplines of mountain biking. His resume on and off the bike is unmatched in the industry. He is a 3 time National Champion, World Record Holder on the bike and possesses broad experience in public relations, marketing, event coordination, and production. Highly motivated and skillful at creating unique marketing opportunities for brands and athletes in a fast-paced environment. A native of New Jersey, Jeff is a pioneer of MTB ,street, and urban riding and set the world record for the highest bunny hop on a mountain bike (45.5 inches).
Today Jeff spends his time leading rides and showing off his skills at mountain bike festivals all over the country. He also shares his skills and knowledge through his Trail Boss videos and website. Jeff takes great pride in being an ambassador with the Can'd Aid Foundation's Treads and Trails program, which has a big focus on getting low-income kids on bikes and outside.
With over 100 career professional podium finishes, as well as a BA in Movement and Sports Studies/Sports Management from East Stroudsburg University, Jeff's and NICA's goal of getting more kids on bikes align perfectly!
---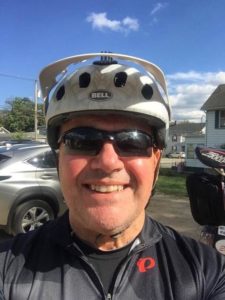 Robin Lauezzari, Chief of Scoring and Timing
Robin is the NJICL Board Administrative Officer. He also serves as the NJICL's Chief of Timing and Scoring. You'll see him and his team, the West Morris Chainbreakers, at all of our races, so drop by and say hello. You can't miss him; he's the guy with the British accent!
Robin was born in London, England, and has lived in the USA since 1980. He has lived in Long Valley, New Jersey since 2001 under the close supervision of his wife and two daughters.
Cycling has been his passion for his entire life and he credits his grandfather for inspiring and supporting his early love for his bike. His goal is to get as many people on bikes as he can and he sees NICA as a big part of the future of cycling.
In addition to cycling, he has also competed as a runner across a variety of distances including ultra-marathon, and was involved as a parent coach with his local recreational track and field organization during his younger daughter's track career.
He continues to spend a lot of time in the saddle in a variety of formats from Mountain to Road. He takes one of his bikes wherever he goes and his ambition is to do at least one long ride in every US state. His most exotic adventure to date was his solo and unsupported ride up Mount Haleakala in Maui and he is in the planning stages for a ride from Washington DC to Pittsburgh along the C&O and Great Allegheny Passage.
Robin is a Level 3 NICA Coach and serves as the Team Director for the West Morris Chain-breakers. He is also a certified indoor cycling instructor and has previously been a Level 2 USA Cycle Coach
---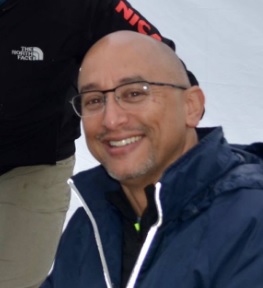 Emilio Lois, Jr., Operations Manager
Emilio is a native New Yorker, born and raised in Brooklyn, New York. Currently residing in Northern New Jersey, he volunteered to help at the first race of our inaugural season and the rest is history. He was immediately swept up into the New Jersey Core Management Team.
He spends his weekdays as a security consultant, specializing in electronic security and surveillance. His background in technology and systems networks makes him a perfect fit for the scoring team and has made an immediate and positive impact on our race-day timing and scoring processes.
Emilio has gotten much busier since joining the New Jersey Core Team. He is currently a coach for his local NICA team. He serves on the New Jersey Leagues Rules Committee and is also a Scoring and Timing Trainer for NICA National. You could easily find him on race days staging racers or keeping the infield organized and running smoothly.
---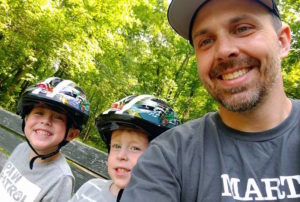 Jason Gonsalves, Tech Guru Supreme, Chief of Course Setting
Jason currently carries the titles of Chief Course Marshal and Chief Course Setter for NJICL. While not a racer himself, he appreciates the sport and the opportunity to share his love of the trails and active outdoor lifestyle. Jason has been co-leading the Dickerson Mine Preserve chapter or JORBA for the last eight years and is a member of the Mine Hill Open Space Committee. When not working on the trails, he is often running beginner and intermediate group rides throughout North Jersey. Jason was the former owner of mtbnj.com and currently runs a mountain biking specific meetup.com group.
When the cycling shoes come off, Jason is a Security Engineer and holds a bachelor's degree in information assurance and security. As a father of twins, Gabriel and Cole, he hopes his boys share his lifelong passion for cycling and become future NJICL athletes.
---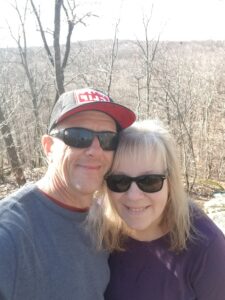 Mary Beth Van Wart, Associate League Director, Volunteer Coordinator
Mary Beth was an early addition to the NJICL Core Staff, joining the team as Volunteer Coordinator; she also serves as the league's communications and logistics manager.
Her involvement with NICA began before our league was chartered when her son raced in the nearby New York League. Mary Beth and her husband David have promoted races in New Jersey for many years, and have been the "boots on the ground" behind JORBA's annual New Jersey Mountain Bike Festival. Her attention to detail and work ethic is unrivaled, and her enthusiasm for the league and our mission is contagious.
Happy working behind the scenes or on the front lines at the registration/volunteer tents, Mary Beth is always there to ensure our events succeed!
---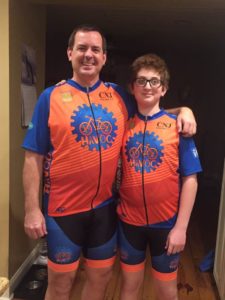 Jon Olson, Director of Programs
Jon joined the league in the inaugural season to help coach when his son joined a team, to be shortly joined by his daughter mid-season that first year. He has over ten years coaching in a variety of youth rec sports for his two children and has been on the board of the local youth sports league for the past eight years, including four years as President. Jon was introduced to mountain biking in the early 90's while in graduate school in Colorado and has been a casual rider ever since. He has really enjoyed improving his riding skills chasing his kids through the woods the past couple of seasons.
Jon is an Outdoor Instructor for a YMCA camp working with school age children from all over the state, as well as NY and PA, leading classes in leadership, team building, ecology, as well as adventure activities such as high and low ropes courses, zip-lining, hiking, rock climbing, etc. He is looking forward to bringing that experience to the NJICL Camps program. Prior to working at camp Jon worked for ten years in college and university administration working with student leaders in residence life, student activities, and other areas before moving into Human Resources management and spent another ten years working mostly in recruiting and training and development.
Throughout his varied career Jon has always considered himself an educator and has striven to help people improve, push their limits, find new passions, step outside their comfort zones, gain self confidence, etc. and is excited to be a part of the NICA family to continue doing that through mountain biking. He is a currently Level 3 NICA Coach and an assistant coach with the Hunterdon Havoc.
---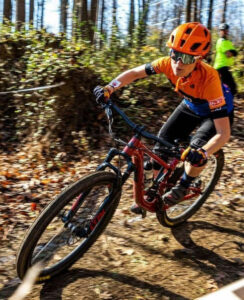 Kristine Contento-Angell, Media Coordinator
Kris is responsible for keeping our story in the media in all formats
She grew up in rural Central New York just south of the Adirondacks. The area lent itself to a life of hiking, biking, skiing & running in the woods. She participated in organized sports throughout her childhood, with field hockey being her focus during high school and college.
Kris currently races mountain bikes at the professional level, focusing on cross-country, enduro, and the occasional endurance event.
Student athletics were extremely important to her growing up and gave her so much more than just fitness. It provided a means of pushing her physical, mental, and locational boundaries. On a very simple, daily level she always focused on making small improvements. In a grander scheme, those daily efforts set into motion a slew of opportunities she never fathomed. From traveling through Europe to a full-tuition college scholarship to attending private skills clinics with the Australian Olympic Field Hockey Coach to playing against the Chinese Olympic Field Hockey Team in Australia. The incredible journey she was lucky enough to experience all started with the encouragement and guidance of her high school coaches.
The self-discovery and unexpected opportunities that can occur as a student athlete strives to do their best are the very things Kris hopes to ignite for our NJ NICA students. She is currently a Level 3 coach for the Essex Off Road team and a member of the NJ Girls Rock! recruiting initiative.
---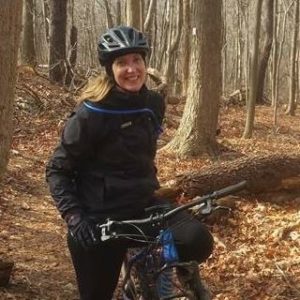 Tracy Paredes, Chief of Registration
Tracy is a self-proclaimed perpetual beginner mountain biker. With a busy career and family life, she suspects it may be a while before she has the time to become a true expert! She is currently a Level 3 NICA coach who helps out with the Randolph Composite teams.
Tracy found NJ NICA through fellow core staff member Jason Gonsalves who convinced her to join and volunteer. She says "Looking for a volunteer opportunity and finding NJ NICA was a dream come true. It is a pleasure to spend time surrounded by a sport you love, and even better, to help others find mountain biking and make it a part of their lives."
Tracy has raced twice in her 10 years of mountain biking – and swears she will do it again soon in the 50+ class!
When not cycling, Tracy is a supply chain manager with a focus on financial forecasting. She is a mother to two boys, Anthony and Bryan, and a step-mom to two girls, Leila and Mia. She loves to travel, hike, ski, kayak, and swim.
---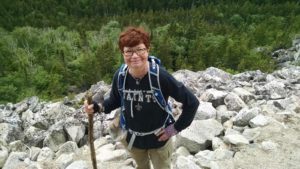 Charmaine Michaels, Infield Safety Manager
Charmaine is one of our Chief Race Officials. You'll see her in action at our race events making sure our rules are followed and working with the other NICA Race officials, Team Coaches, and student athletes to make our races a great and safe experience for everyone.
Charmaine began cycling on the dirt roads of Michigan with an old fat-tire Schwinn as a 10-year-old. After moving to New Jersey in 1989, she began officiating with USCF and NORBA. Charmaine officiated amateur races all over the Delaware Valley region for about 10 years. In 1999, Charmaine began concentrating on her own riding again, participating in many charity road rides and group mountain bike rides.
After attending a NICA meeting in late 2016, Charmaine developed a passion for the NICA mission and started officiating races in 2017.
---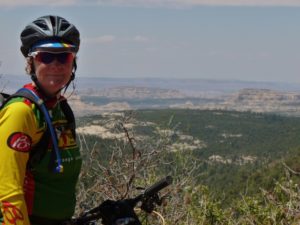 Caroline Cullen, Chief Race Official
Caroline joined our core staff in late 2017 as a Race Official after being recruited by former operations manager BJ Kisch. She was an easy target. Caroline was at Trek World, representing her then bike shop when John Burke announced that Trek would be donating $1 million to NICA. That is a lot of faith in #morekidsonbikes and helped make Caroline a believer.
Caroline is a licensed USA Cycling Level C Official. She worked at an NJ bike shop for six years engaging with all levels of cyclists, promoting more people on bikes, and sharing the love. She is a former member of the Board of the Morris Area Freewheelers Cycling Club (MAFW).
Caroline has ridden since a very young age. Her Dad always made sure she had the right bike to get around their hilly neighborhood in NJ. She is a ride leader with MAFW and has been a backpacking leader with the Appalachian Mountain Club. When people ask her how many bikes she has, she has to use her fingers – on both hands.
After a 28 year career in finance and accounting, family issues took precedence and Caroline left corporate and worked at the bike shop in sales and marketing and is now resting and awaiting her next adventure. She has a BS in Accounting from Montclair State and an MBA from the University of South Carolina and is a CPA.
---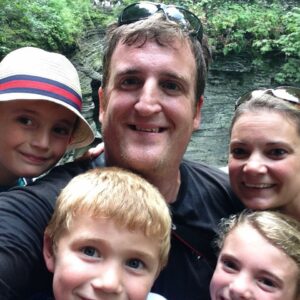 Shawn Doucette, Medical Coordinator
Shawn Doucette has been cycling since the '80s, but really got into mountain biking while attending college in CO in the '90s. He's only raced a few times, but the experience has driven him to continually strive for improvement and success and to instill those same values in his three children. So far, he has only been able to convince his youngest to join him in his cycling adventures! He coaches his other two children in swimming and lacrosse. His family enjoys backpacking, camping, skiing, rock climbing, snorkeling, kayaking, fishing – really anything outdoors!
His many volunteer activities have included everything from YMCA-sponsored programs to charity bike rides across Alaska, as well as medical mission assistance programs in Jamaica during the mid-2000's, where he assisted in administering free medical and surgical services. He has been a Registered Nurse for over 20 years, and currently runs his own business as a surgical assistant, helping Doctors help their patients.
He is currently a level 2 NICA coach with the Somerset Hills Veloraptors and has been coaching for the past 2 years. He is really looking forward to when his youngest can actually compete instead of just following along as a sweep during practice rides!
---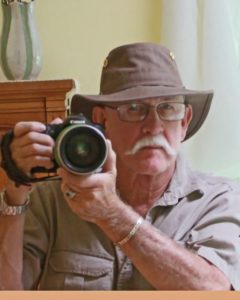 Don Madson, League Photographer
Don lives in Basking Ridge with his wife, Elissa, and has 2 daughters, 3 grandsons, and a granddaughter.
He is a Vietnam Vet, serving 4 years on a Destroyer. He's got two degrees in Anthropology, and served as Curator of Education, Curator of Anthropology, and Assistant Director of the Morris Museum, then as Director of the Bergen Museum.
After spending 11 years in the Museum field, he bought a tackle shop and spent the next 16 years building custom fishing rods, restoring and repairing reels, and selling the equipment associated with fresh and saltwater sport fishing. He was commissioned by ABU Garcia (the largest fishing equipment vendor in the world) to build a pair of bluefish rods for President G.H.W. Bush.
He has studied Yang style T'ai Chi Ch'uan since 1992 and taught since 1997. Currently, he teaches at 5 locations, consisting of 3 YMCA's, an Adult School, and a Hospital.
Don has been a photographer for 50+ years and started shooting cycling events 10 years ago. Now covering cycling events in New Jersey, New York, and Pennsylvania, most weekends during the season are busy. The opportunity to shoot NICA events is highly satisfying from a photographer's standpoint, and the environment of a NICA race is not only charged with the electricity of the young riders but the enthusiasm of the NICA team itself.
Retired for a while now, he spends time fishing, playing golf, using photography to prompt walks in the woods, and studying and teaching martial arts, and, importantly, taking photographs of the hard-working riders of NICA.
---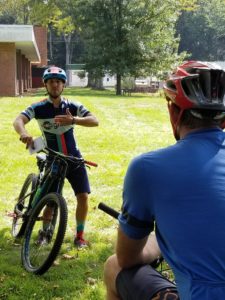 Fred Brown, Coach Supporter
Fred was born and raised in New Jersey and recalls many of his childhood memories involving a bicycle. It wasn't until a bit later when he met some lifelong friends that he discovered his true passion for bicycles.
Since then Fred has raced in the woods, on the road, and cyclocross all over the Mid-Atlantic region. More than anything Fred enjoyed the atmosphere, fun, and camaraderie at each and every race.
Since then, Fred has taken the time to focus his time at home, raising two boys, Adam and Paul. He hasn't left the scene all together. Fred is a Level 2 ICP instructor, a level 3 NICA coach who assists Robin Dunn and the Princeton Progressions, and an NJICL Coach Supporter.
---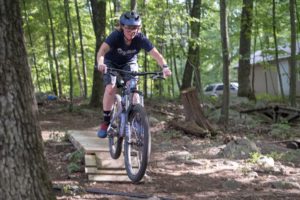 Robin Dunn, Coach Supporter
Robin grew up in rural Sussex County where her passion for the outdoors started. While pursuing her Master's in Geology at the University of Maine, she was introduced to mountain biking.Upon moving back to New Jersey, she purchased her first mountain bike and never looked back. Robin is a teacher at Roxbury High School and usually spends her summers as a mountain bike instructor at the Morristown Beard Day Camp. She is also part of the Cognition Coaching team. Robin rides (and has been known to race) all kinds of bikes but her heart belongs to the trails and mountain biking.Robin has been involved with the Princeton Progressions team since the start – and is now the Head Coach. With her prior racing experience and Level 2 ICP Skills Certification, she is now also one of the NJICL Coach Supporters.
---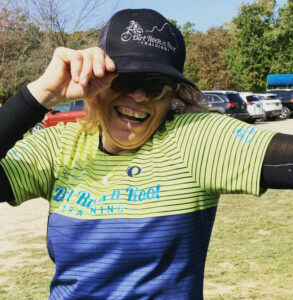 Kathi Krause, Coach Supporter
Kathi started racing bikes on the velodrome in 1985. She worked her way through criteriums, road, cyclocross, and cross-country racing before finding her home on the Pro Downhill circuit in 1998.
After competing in her final race in 2008, and with three Masters World Downhill Championships and 25 years of racing in her pocket, Kathi started Dirt Rock n Root Training in 2011.
She holds instructor certifications through IMBA and PMBIA, and is a USA Cycling licensed coach.
Her main objective is to help bring more women and kids into mountain biking and to promote mountain biking as a lifetime sport. This ties perfectly into her role as a Coach Supporter and NJ GRiT Coordinator for the NJ NICA league.
When not coaching, you can find Kathi shredding the trails at Mountain Creek Bike Park.
---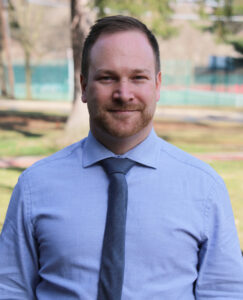 Elliot Coates, Chief Course Marshal
Elliot is one of the newest additions to the NJICL Team, coming on board as Chief Course Marshal. While Elliot will never call himself a racer, he is a lifelong rider and advocate of the sport. Elliot is driven by the power that outdoor and experiential activities have on youth development and their lifelong transferable nature, so much that he has made that his profession. For almost two decades, Elliot has worked in the outdoor adventure and experiential education industry worldwide, including working as a guide and instructor for many years in the adventure industry.Elliot looks forward to applying all his experience in the outdoor adventure industry, risk management, and youth education skills to the NJICL mission and helping grow the number of students enjoying MTB and the natural world.When not in the office or running a camp, Elliot can be found chasing his three young children around, hoping they will grow to love biking and the outdoors as much as possible.
---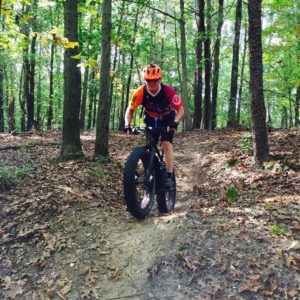 John Williams, Assistant Chief Course Marshal
John began his work with the NJICL as a league volunteer, where he quickly found a passion for marshaling at the races. He regularly worked double shifts during our inaugural season, and quickly became assistant chief!
You can find John working with the operations team on the days leading up to our races, expertly assisting walk on volunteers and working hard to ensure a safe and professional infield.
In his off time he also volunteers with JORBA, taking care of numerous trail systems in his local area.
---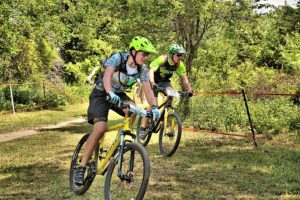 Michael Cohn, Staff @ Large
Michael serves as Staff @ Large for the League, assisting in many different areas. Michael began his NICA journey as a student-athlete racing during the 2017 inaugural season, where he was recognized as the League's Student Volunteer of the Year.
After graduating high school, Michael attended the New Jersey Institute of Technology, where he received a Bachelor's Degree in Mechanical Engineering Technology and a minor in Manufacturing Engineering Technology.
After several years as a staff member in New Jersey while attending college, Michael moved to Maryland and joined the Maryland League. After several years in Maryland he relocated back North to Connecticut. Michael currently resides and works in Connecticut, and travels back to NJ for the races to ensure that everyone has the opportunity to enjoy the wonders of NJICL.
If not at a NICA event, working, or spending time with family, you are most likely going to find Michael volunteering for various groups, enjoying the outdoors, or at NJ Devils games.
Michael's interest in cycling began when he spent a high school summer in Colorado, where he cycled up Loveland Pass and Freemont Pass, among other exciting rides and training with his cousins and uncle. After returning, he rode in the Gran Fondo New Jersey, completing the 107 mile distance 2 years in a row.
---
James Farrell, Assistant Chief Course Setter
Bio coming soon!
---
Junior Rondon, Parking Manager
Bio coming soon!
Alumni:
These are former staff members who have been such a huge part of our success – we couldn't have done it without them, and thank them for all of their time and hard work!
---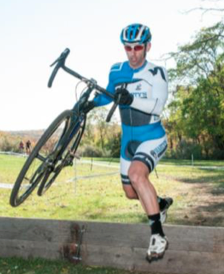 Chris Facas, Founding Committee President, Operations Manager
Chris Facas is the New Jersey NICA League Bid Founding Chair. He pulled together a very impressive team of dedicated cyclists to create the bid and his team will continue to rely on his 30 years of competitive cycling experience to fulfill their vision of a very successful chapter.
Chris also brought more than 15 years of bike business experience, which enabled the group to rely on his extensive knowledge of New Jersey trails, the racing community, the people of influence in the area, and the numerous resources that were required to achieve a thriving and popular mountain bike racing community among the high school youth of this state.
Chris has two children with whom he has shared his passion for physical activities and the outdoors. They have followed in his footsteps of downhill and cross country skiing and mountain bike racing and he wants to instill that fervor for outdoor activity and mountain biking in many more New Jersey young people. He talks extensively about his desire to bring the sport to those who may not enjoy participating in mainstream high school team sports, but would like to be part of a team.
Chris is President of Renegade Action Group, LLC. In the past he has been Store Manager at Marty's Reliable Cycle in Morristown, National Accounts Manager at Pacific Health Labs, Account Manager for New York and New Jersey for Jamis Bicycles, and Account Manager for NYC metro/Northern NJ for Specialized Bicycles. Chris spent 11 years living and working in Breckenridge, Co., and has been racing mountain bikes since his first purchase in 1988. He has also competed in Road, Cyclocross, Time Trailing, ski racing, and adventure racing. He has a Bachelor of Science in Environment and Business Economics from Rutgers University.
---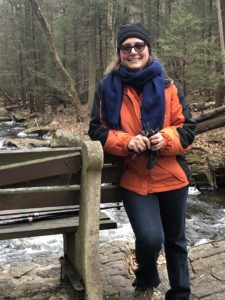 JoAnne Kruse, Advisory Board Member, Medical Coordinator
JoAnne Kruse served as an NJICL Advisory Board member and also served as Medical Coordinator for the league. In addition to a career in human resources, she spends her time working as a volunteer EMT. Along with her husband Tom and their two wonderful children, they are a long-time biking family.
JoAnne graduated with a BS in Industrial and Labor Relations from Cornell University and earned her MA in Psychology from the Columbia University.
---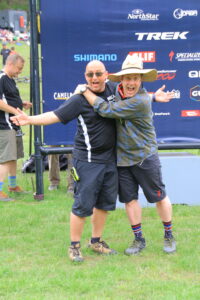 Bogert "BJ" Kisch, Operations Manager
B.J. joined the league in the 2017 inaugural season as Operations Manager.
Born and raised in North Jersey he got his start promoting cycling in 1986 as a member of the RAGE BMX freestyle team setting up local shows for the team to perform at.
Since then he has worked with various races such as the Philadelphia Pro cycling tour, Providence Cyclocross Festival, Women's Woodstock Cycling Grand Prix, and most recently the Race Director for BubbleCross.
BJ is a dedicated father, NJCX Project director / Coach, and brand ambassador for Skratch Labs, Giant Bicycles, and Mavic.
He used his experience from both sides of the tape to ensure the highest quality production value for the student athletes of the NJ League.
---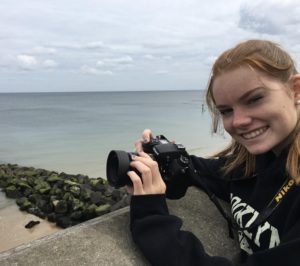 Rosie Lauezzari, Race Reporter
As the daughter of Robin Lauezzari, Rosie was been involved with NICA since it came to New Jersey. She previously took photos and handled the social media platforms for two teams in the league, the West Morris Chainbreakers and the Somerset Hills Velociraptors.
Rosie is now a student at UK where she expects to graduate in December 2023. Although she didn't ride on a team, she still enjoys going for (short!) trail rides with her dad. She is a dedicated equestrian and was a serious long distance runner until she was forced to retire her sneakers due to medical reasons. She has always had a love for photography and is excited for her passion to be put to good use!
---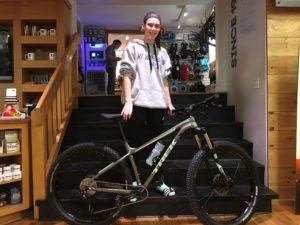 Amanda Klopper, Race Reporter
As the League's first Race reporter, Amanda worked alongside the Media Coordinator to tell our league's story. Amanda rode for the Randolph Revolutions Composite Team.
---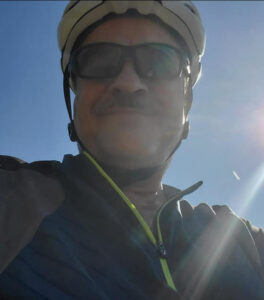 Jon Sherwood, Volunteer Coordinator
Before his retirement, Jon was territory manager for Trek Bicycle Corporation in New Jersey and Northeast Pa. His job required working with bicycle dealers on retail, marketing, and other areas of business. He worked in various capacities in the industry for more than 35 years.
He earned a degree in journalism from Keene State (NH) College. After six years as a reporter, editor and photographer for a variety of newspapers in New Jersey and New England, the bike bug convinced him to give up journalism for a career in the bicycle industry. He bought his first mountain bike in 1990. For several years, he wrote a weekly newspaper column on the outdoors, frequently focusing on mountain biking.
Jon owned a bicycle shop in North Jersey for seven years, and has worked as a regional manager for an 18-store chain, as well as other bicycle manufacturers and bike shops. His passion for cycling goes back to elementary school. He has toured extensively by bicycle, including a five-week tour in France and a month-long tour from New Jersey to Mississippi. He has ridden the seven-day San Juan Huts MTB tour. He has organized many shorter cycle tours with friends.
Jon has worked extensively with children, as a church youth leader and teacher, in teaching bicycle safety with grade-school children and, over the years, in running nearly 50 bicycle safety "roadeos". Now retired, he and his wife Jane are embarking on a goal of paddling and pedaling (kayaks and bikes) in all 50 states!