NJICL Letters from Camp 2023 – Welcome to NJ@KT 2023!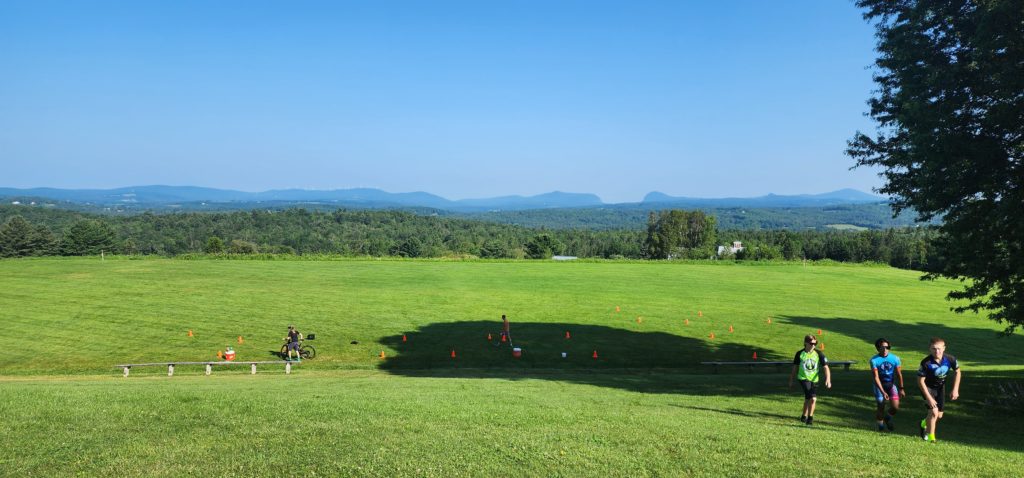 Good Evening Parents, Coaches and Staff,
We are so happy to welcome the NJICL Community to the Northeast Kingdom, and are tremendously thankful for the opportunity to host this summer camp at Burke Mountain Academy (BMA) for the second year in a row. BMA is the first school of its kind, the leading ski academy in the country, and exists to "champion ski racers chasing greatness." Home to a maximum of 70 students annually, BMA has graduated 37 Olympians, including 2014 & 2018 Olympic gold medalist Mikaela Shiffrin, and hundreds of US Ski Team and other national team members. You can read more about BMA's rich history here.
Throughout the week we will send regular notes via email and repost the letters to our blog, located on the league's homepage, newjerseymtb.org
We have an Instagram account for camp that is managed primarily by campers, please give them a follow: https://www.instagram.com/njmtb_vermont23/
Arrival and Ice Breaking
Sunday at camp is all about checking in, getting settled and getting to know everyone. Campers were introduced to camp staff and assigned ride groups for the week. Ride groups then spread out around the campus for some fun icebreakers and games focused on introductions and fun.
A major theme at our camp is sharing the Ride With Gratitude sentiment, a pledge made by the Kingdom Trails Association (KTA) and wholeheartedly supported by our program. You can read about KTA's pledge here: https://www.kingdomtrails.org/ride-with-gratitude
Students will hear coaches and staff speaking of riding with gratitude often this week, and we hope that they will bring this attitude back home with them!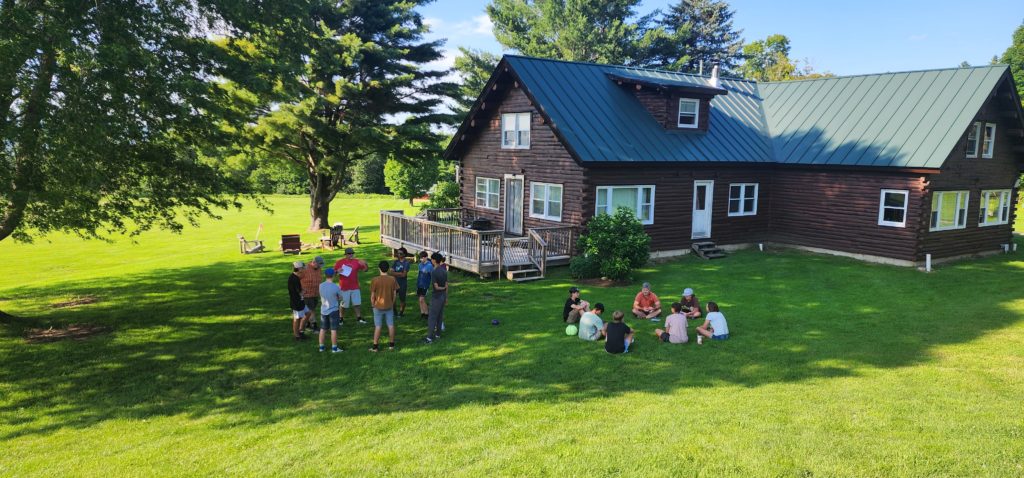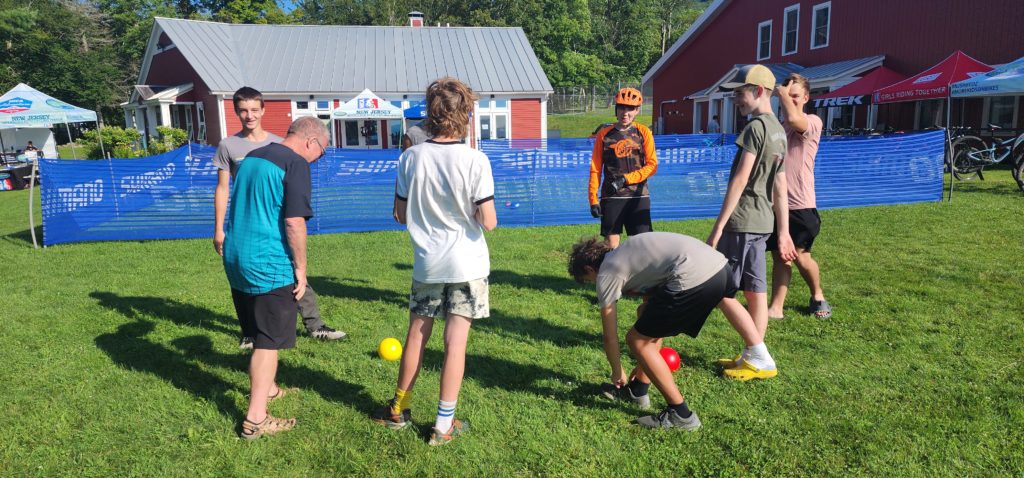 The Evening Meal
Meal time at BMA is always a treat. The dining facility staff are super kind and experts in their field. All dietary needs are accommodated, and the care that they have for their customers shines through in every meal. Tonight's meal was prepared by Chef Isaac, with Burgers, steak fries, green beans and salad on the main menu. Fruit, snacks and drinks are always available, and we are constantly encouraging campers to hydrate!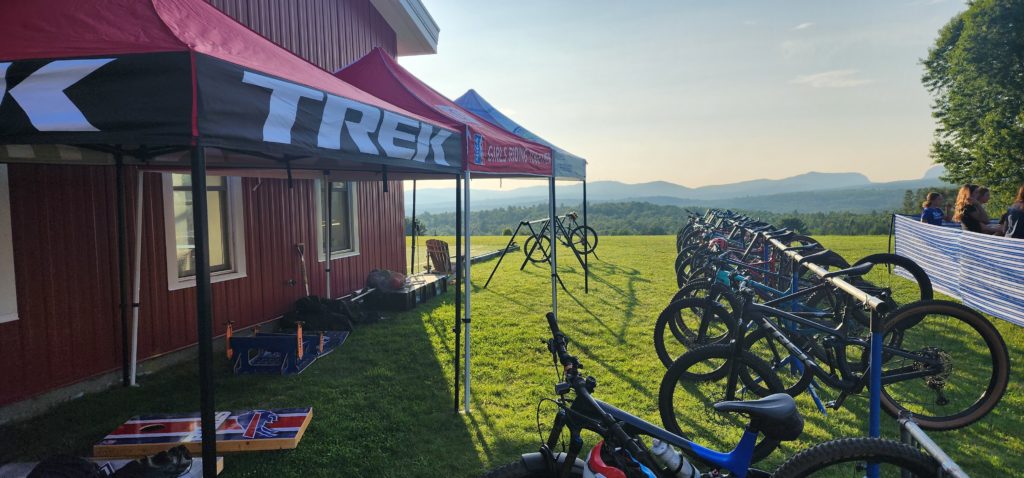 After dinner campers gathered for a more in depth introduction to camp. The main topics included camp rules, housekeeping, schedules, etc. This is all pretty dry material, so Coach Steve (Minister of Fun!) quickly gathered campers for more icebreakers and games.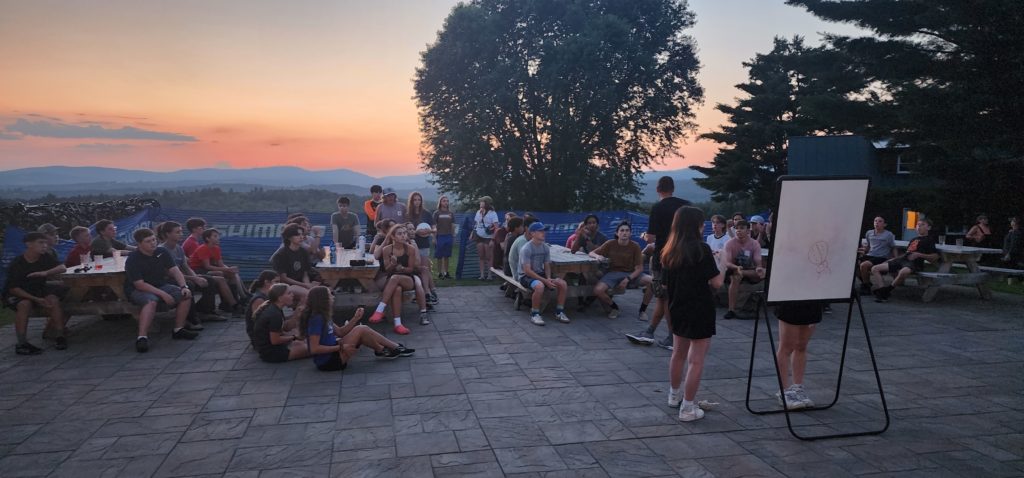 You may see a few sunset and sunrise photos this week!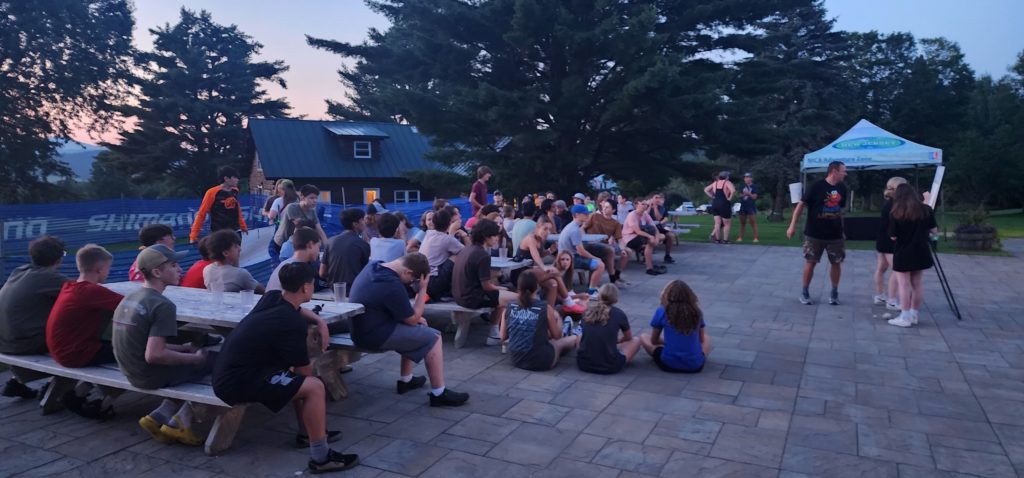 Campers are headed to their dorms as I write this, with lights out happening at 10pm. Every dorm has two resident coaches, and we have a large contingent of adults on site to assist with first night jitters. Tomorrow morning, our first full day of camp and "Wear Your Team Jersey" day, begins with breakfast at 8am. We will then spend the morning playing bike-centric games and skills drills before venturing out into the wonderful network of trails.
Thank you for reading, and for participating in the 2023 NJ@KT Camp. On behalf of our staff and coaches, please rest easy knowing that we are working tirelessly to ensure a safe and fun experience for your students.