NJICL Letters from Camp 2023 – Wednesday Morning Edition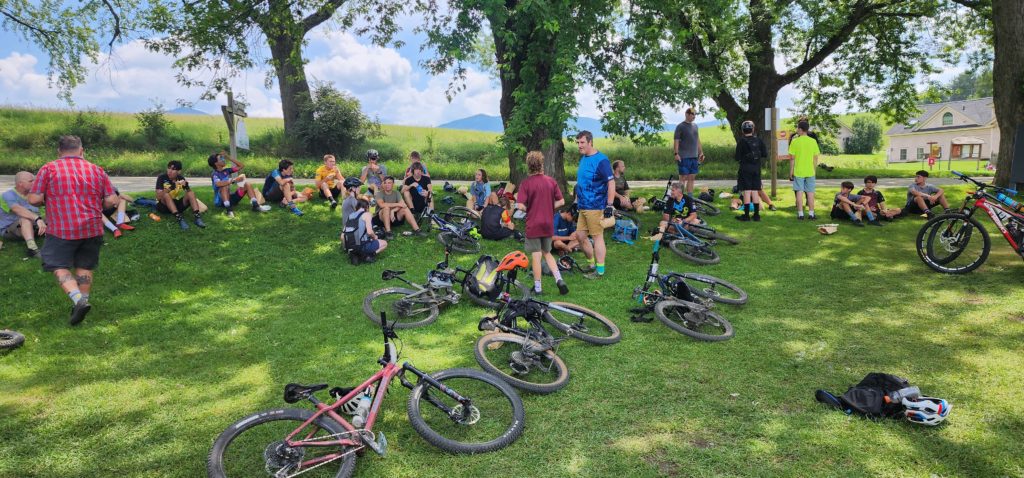 Good Morning NJ@KT Fam,
We hope that this note finds you well. It was a whirlwind morning here in the Northeast Kingdom! Chef Isaac fueled our teams up with an awesome breakfast and campers packed lunches in excitement for an action packed mid-week day of activities.
Groups 1 and 2 were the first to depart, and they are currently working with the KTA Trail Crew on a brand new trail at the Kingdom Campground. Before heading out to dig they were introduced to Lukas Ray, KTA's Community Outreach & Partnership Director, who gave a brief introduction to the network's unique nature, existing almost entirely on private land. They were then given a safety briefing by the trail crew and headed out to the trail.
Groups 3 and 4 are working with Coach Ben and Coach Pat this mornin for skills, and we will shift groups around after tailside lunch to run another bunch through trail maintenance and skills. It's a super busy day for staff, coaches and students, but we wouldn't have it any other way!
We'll catch back up tonight with a recap of the day and more photos!
Last night's letter contained a few grammatical errors, but we hope that you are enjoying them regardless. =) You can see the letters reposted on our site, here: https://newjerseymtb.org/category/njkt/
Reminders:
We have an Instagram account for camp that is managed primarily by campers, please give them a follow: https://www.instagram.com/njmtb_vermont23/